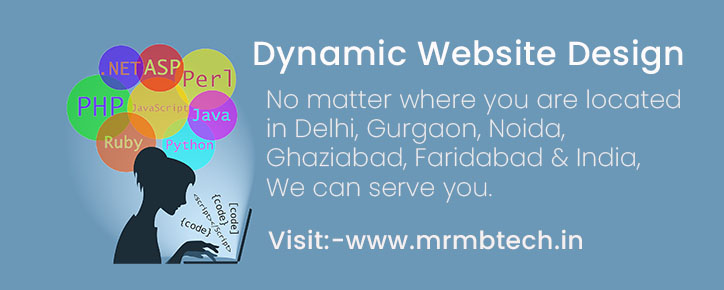 Dynamic Website Designing Company Delhi|
With over 1.8 billion websites on the Internet, you need a site that understands and responds effectively to users' needs in order to dominate the worldwide web.
Dynamic web design makes websites more interactive by empowering them with customizable page display user experience integrated whatever tools management system search functionality, SEO elements, etc. It combines multiple tools like text images and videos And also makes updating very easy. Details etc. which when updated in static website otherwise require technical expertise
Why Dynamic Website Designing
Easy To Manage:-The dynamic interface of the websites lets you create the content/graphics without any specific IT knowledge and can be updated within the company
Dynamic website designing is very beneficial for that kind of business that keeps on changing their content like blog website keeps on changing frequently about their products and services, with the help of control panel the administrator of the website Mr.MB TECH is a specialized dynamic website designing company in Delhi and our designs are visually attractive, user-friendly and deliver the message simply and effectively. Dynamic website databases are important websites that keep your data safe and secure that your data is saved.
It works both for taking and giving payment by online shops, and credit cards. Faster web development also allows access to one or more people who can edit the website with all kinds of permissions.
Being one of the Best Dynamic Web design Company in Delhi it is our endeavor to develop websites and most of our websites are developed to enable A real estate agent website with a simple search feature to search for properties by location, price, type, for example, to have the site's property information and speed property, or an eCommerce garments website with a search facility built in to search for garments based on fabric, color, price range, brand
Calculates the priority and requirements from the work behind the website and takes all the thorough information from the database and based on the selected criteria of the visitors a web page is prepared.